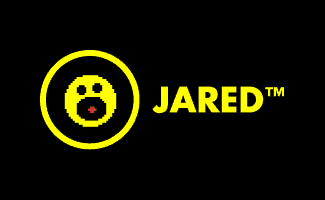 JARED 10 links:
http://www.freeverse.com/toys/jaredpraise.html
http://www.freeverse.com
http://www.unknown.nu/mercury
http://www.utterer.com
http://www.kolgrim.com
http://www.sanfordsmith.com
http://www.okgrafix.com/.com
http://www.macsurfer.com
http://www.pennywhistle.com
http://www.iheu.org=
JARED

Ian Lynch Smith and Colin Lynch Smith are partners in Freeverse Software, a developer of computer games. Their brother Jared dropped by the office one afternoon, picked up a guitar that was laying around and began to sing in his usual atonal manner. Ian recorded him directly into his Macintosh, drew the world's worst smiley face, and coded a small program to animate it as the song played. Colin wrote some text and they uploaded it to the Net that day. The appeal of JARED is its complete lack of pretension. Jared is trying to sing his best, unembarrassed if not unaware of his vocal failings. The smiley face was a sincere attempt, but again limited by a lack technical ability. The combination of the two is riveting. It speaks to our aspirations, our failures, and the courage to laugh at ourselves throughout it all. Jared Lynch Smith is a therapist and social worker in New York City. He learned his Spanish folksongs while working at an orphanage in Guatemala. Ian Lynch Smith is the president of Freeverse Software. Colin Lynch Smith is the vice president of Freeverse and one of the founders of the Outsider Art Fair in New York.

JARED:

Butcher of Song has been featured on the cover of Animation World Magazine, appeared in Blockbuster Video television ads, and been emailed, friend to friend, countless millions of times.